cours Z du 5 février 2014
Construction d'index en book.
Un bon vieux mode d'emploi InDesign CS2.
Typoquizz de la nouvelle en journal.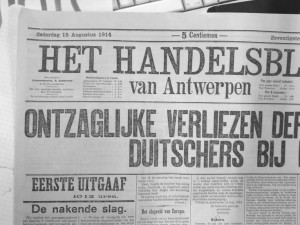 HET HANDELSBLAD : Ça ressemble bien à la Consort, non? Consort (1956) from Stephenson Blake Type foundry, a re-issue of the original Clarendon.
ONTZAGLIJKE : Pas loin de la Garage Ghothic de Font Bureau. Qui dit mieux?
Ici en zip quelques unes françaises 1933-1944 sélectionnées par Marion sur Gallica.
À lire en parallèle de la nouvelle The machine stops:
— L'outil, l'esprit et la machine, Tim Ingold
— Xerox and infinity, Jean Baudrillard
Pour le 12 février:
The Machine Stops : première remise imprimée.
Catalogue des limites : proposition de sommaire (délimitation contenu).
Rendu de la première chanson (pour ceux qui ne l'ont pas encore rendu).