cours Z du 6 janvier 2015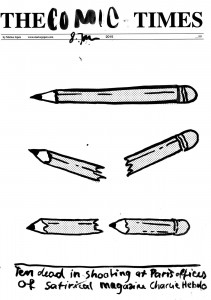 — Le Poster Diary de Marius Jopen
— Today's Paper, l'application du New York Times pour "voir tous les articles de la version imprimée, organisés comme ils le sont dans le journal du jour"
— une sélection de fontes en usage dans les journaux, fontsinuse.com
— et quelques Unes fiction : Back to the Future's Terrible Newspaper, Les Meilleures Unes de Journaux des Simpson.
Pour le projet de Une, tout est permis. Votre série de Unes n'est pas une plate réplique de la page web. Spaghetti html, copié collé papier à partir d'un pomme p, vectorisation / OCR de captures d'écran, ouvrer les pistes au maximum. On tire sur la page, on tord les colonnes, on remix la surface des nouvelles.



← Design Reporter, times et squelette Le Monde.
Mardi 14, jury de fin de quadri avec Joël Vermot.
Dimitri 16h15, Charlotte 16h35, Oriane 16h55, Benjamin 17h15, Florence 17h50, Eddy 18h10.